Rapid delivery of turn-key LACT Solutions from software only, preloaded control panel fabrication and documentation, or turn key fabrication. Control programming and design flexible for oil only, oil and water or water only applications in one design. Field configurable through faceplates requiring no laptop to commission.

Features
4-customer Oil and Water capability
Flexible with existing control systems and SCADA
Fully preprogrammed and configurable from the HMI

Oil and water trains, individually selectable by customer
Selectable peripheral devices (producer comms, tank valves, salt water cooler, etc.)

Quick-Connect Electrical connections for rapid field installation and commissioning
Fully documented drawing package, control narrative, cause and effect with consistent tagging from electrical design and installation to P&IDs and HMI.
Measurement and system reporting (data mapping) for control room applications
Sampling mode to streamline exact sample amounts by volume, time, or level.
Advantages
Fabrication
Modular assembly allows for oil/water mechanical configuration
Configuration and HMI-only setup allow for any Fabricator to integrate
DCS programming approach allows technicians to test devices without a laptop
Quick-connect system allows for easy disassembly for shipping
Turn Key Delivery
Control Narratives
Cause and Effect
Panel Design
Documentation

Layout
Materials
Electrical
IO Loops
Wire Tags

Integrated FAT
Serialization
Panel Fabrication
Software Pre-uploaded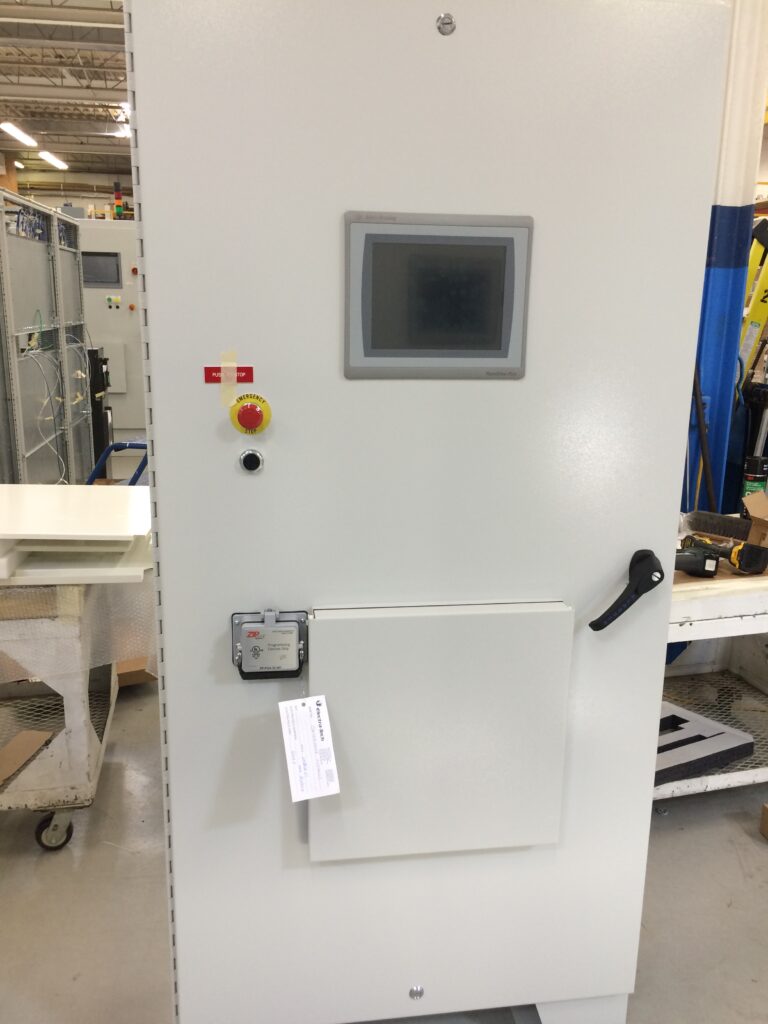 LACT Panel Exterior

Floor mounted unit with touch screen interface preloaded with standard LACT programs. Exterior E-stop and reset buttons. Fold flat table with power and communication connections allow for trouble-shooting without opening the cabinet. 
Commissioning
Using the quick-disconnect cabling allows for simple cable tray installation and minimal wiring efforts.
Laptop free setup and testing allows for reduced Operator and Technician orientation and training
Operations and Maintenance
Time is synchronized to the flow computer from SCADA eliminating site inconsistencies
Local trending per device / loop
Troubleshooting the system does not require laptops, software or programming as the system is fully documented and additionally supported by Rockwell TechConnect
Standard hardware configuration allows for software updates
Greater Return on Investment 
Flow Sooner – Shorten lead times, eliminate field programming, and reducing commissioning time saving hundreds of man hours and creating revenue faster.
Troubleshoot Better – Consistent design for all LACTs, indicating breakers, and consistent drawings to locate issues easily and fix quickly with consistent parts
Reduce Spares – Consistent design makes for face rip and replace without moving wires or changing tags
CCE No Laptop Policy –
No programming needed on-site. Configurable operation by faceplates, while staying locked to prevent changing the logic without correct credentials. Keep operators from programming out alarms and provides user based security.
Standard Solution –
-          Support up to 2 Meter Runs
-          Oil, Gas and Water Applications
-          72x36x12 Floor Mounted NEMA 4 Panel
-          PanelView Interface
-          Exterior Features
o   ESD Button
o   Pushbutton Reset
o   20 A GFCI 120 VAC Outlet
o   Communication Ports
o   Foldable Table
-          Allen Bradley 1796 CompactLogix PLC
-          SpiritIT Flow Computer
-          Segregated 120VAC Power Distribution
-          Segregated 24VDC Power Distribution with UPS
-          Indicating Breaker Supplementary Protectors
-          5-port Network Switch
-          Motor Relays
-          Internal GFCI 120VAC power outlet
-          Single Stack terminal blocks
-          Open space for wireless communication modules and expansion.
Custom Hardware Needs?
Needing additional hardware to suit your custom application? We can design a custom Snap-On JBox for your one off fields keeping your LACT panel consistent and keeping IT and others out of your control panel.
-          Radio and communication
-          Power Systems
-          External Control Systems
-          ESD Relay Panels
Configurable Options –
Customize your panel design to fit your location, application and standards
-          UL Listing for 508A or 698A
-          Insulation and heating
-          Custom markers for wiring, devices and nameplates
-          Ferrules
-          Spring-cage terminal blocks
-          Custom colors for wires, ducts, cabinets, and nameplates
-          Fuse or Indicating Supplementary Protectors for power distribution and IO
-          Preferred Flow Computers and PLCs
o   Supporting
-          Panel Dimensions
Solutions to Compliment
Ask us today about these other offerings and services to maximize your investment
·         System Audits
·         Control Narratives and Cause and Effect Documentation
·         Field Commissioning Services
·         Custom Panel Fabrication
·         Electrical Engineering
·         LACT Skid Solutions
·         24 Hour Remote Support Services
Frequently Asked Questions (FAQs)
Yes, our control logic and methodology can be implemented with third party control panel manufactures and LACT fabricators. We review your measurement program and work with your other vendors to build a custom solution.
Our LACT solutions can be used across platforms, from Allen Bradley, ABB, Emerson and more. Our solutions are designed to be delivered with full HMI configuration capabilities, Control Narratives, Cause and Effects, and complete engineer documentation and operation practices.
Yes, we are happy to work with your preferred fabricators and engineering firms to ensure a successful design, fabrication and commissioning of your new LACT while optimizing the entire design process to enhance your ongoing operations.
How does your Control Strategy stack up?
Ask us to review your existing control system or narrative. We'll provide a complimentary audit to see where your system excels, and where it could use more attention.
Are you ready to get started?