Companies continue to invest in Information Technology (IT) Cybersecurity to protect corporate data from hackers. Few organizations are aware of the threat to their Operational Technology (OT) systems including their manufacturing systems, production systems and Building Automation Systems (BAS) such as HVAC and Access Control. A ransomware attack may encrypt your business data on the IT level, but a cyber attack on your OT systems can result in chemical release, fire, destruction of equipment, and loss of life.
Real Business Impact
Dramatically Reduced Risk – By properly configuring your control system devices, and implementing security features you will be able to reduce your attack surface and reduce risk.
Secure Remote Access – A well-protected system that enables your operators and managers to access their site remotely to take immediate action on process upsets. Secured data access to manage all nodes of your system from a centralized location to optimize your processes.
Protected Business Level Reporting – Open a defended access point to obtain critical data for accounting and the executive suite faster without compromising on plant level security.
Operations Focused - IT Approved
Control systems are highly sensitive and require specialized protection to prevent system downtime. Our team of experts include Control System Engineers, System Integrators, and Cybersecurity Specialists to ensure your process and discrete controls are optimized, protected, and prioritized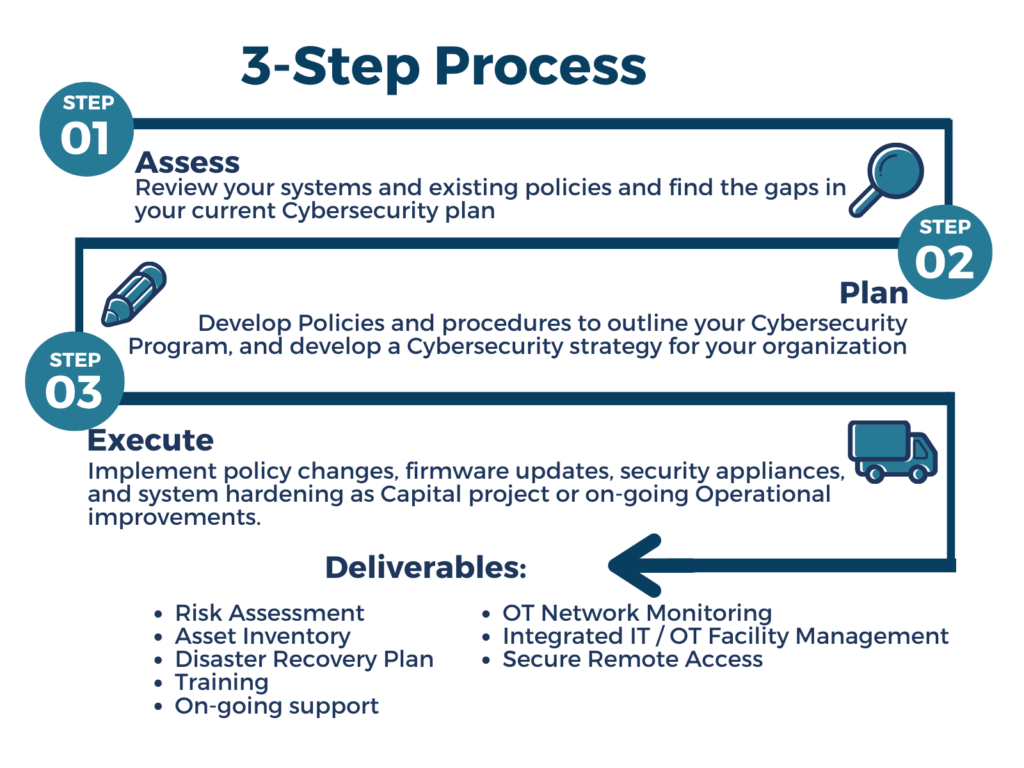 COMPLIANCE AND REGULATORY STANDARDS
Apply industry standards to your control system for the highest level of protection.
IEC/ISA 62443

NIST SP-800-82/800-53

NERC CIP

AWIA Compliance
Get your FREE Industrial Security Assessment Today!
Gauge your facility's security plan, get complimentary recommendations, and outline a cybersecurity roadmap for your organization today! Complete a quick survey and we'll give you a call to provide insight, recommendations and actionable advice for immediate improvements to your security.
Are you ready to get started?