Phoenix Contact adds Convergence as System Integrator Partner
Denver Based Firm Partners with International Leader in Industrial Automation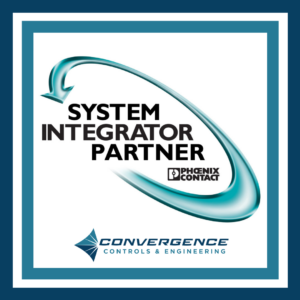 Littleton, CO – Denver based Convergence Controls & Engineering (Convergence) and Phoenix Contact have partnered together to provide Industrial and Commercial Automation customers with world-renowned electrical and control system products that includes outstanding local system integration and support. As a member of the Phoenix Contact System Integrator Partner (SIP), Convergence will expand on its support of Phoenix Contact products with direct factory support, training, and collaboration to provide tightly integrated and easy to use automation systems.
"Phoenix Contact offers exceptional industrial and commercial equipment across industries and offers abundant support for their products. As a Master System Integrator, Convergence offers localized support applying and integrating control system platforms and associated technology. Together, we are ensuring end-users' assets are running efficiently and maximizing their profitability." says Aaron Pfeifer, VP of Operations at Convergence.
While Phoenix Contact and Convergence have worked together successfully for years on projects in oil and gas, water/wastewater, life sciences, and building automation, the newly recognized partnership expands the relationship to create a unique partnership in the space. Convergence's expertise with process and discrete facilities enables us to provide customers robust yet simple to use software programs that will be optimized in conjunction with Phoenix Contact's hardware solutions. Additionally, Convergence's ability to deploy teams into the field for construction, commissioning, and on-going support will provide seamless implementation for complex projects.
For more information contact:
Convergence Controls and Engineering
Aaron Pfeifer – Vice President of Operations
Phone: (303) 954 – 8351
Email: [email protected]
About Phoenix Contact
PHOENIX CONTACT develops and manufactures industrial electrical and electronic technology products that power, protect, connect, and automate systems and equipment for a wide range of industries. Phoenix Contact GmbH & Co. KG, Blomberg, Germany, operates50 international subsidiaries, including Phoenix Contact USA, Inc., in Middletown, Pa.
https://www.phoenixcontact.com
About Convergence Controls & Engineering
Convergence Controls & Engineering is a Master System Integrator that specializes in creating seamless connections for assets to operate at maximum efficiency regardless of control platform across industries. Convergence is based in Denver, CO and provides services across North America.